Home
Kruse Rhododendron Reserve
Kruse Rhododendron Reserve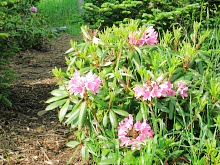 This park is located approximately 10 miles north of Fort Ross, near milepost 43. It is just north and inland from Salt Point State Park.
This state reserve is located adjacent to Salt Point and features a beautiful second-growth redwood forest mixed with Douglas firs, grand firs, tanoaks and rhododendrons. Each May patches of pink are scattered throughout the green of the forest as rhododendrons burst into bloom. The wealth of rhododendrons is a direct result of the normal progression of plants following a severe fire that once occurred here. Today the regenerating forest is gradually overwhelming the rhododendrons.
The Post Office and Wells Fargo stage stop serving Fisk Mill and Kruse Ranch is pictured to the left. Today the structure is dilapidated, but still stands beside Highway One just north of Fisk Mill.