Home
Events at Salt Point State Park
Events at Salt Point State Park
No event currently scheduled at Salt Point.
PAST EVENTS
September 14: Park Champions Work Day at Salt Point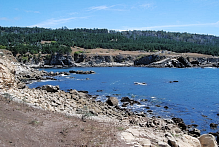 Our second workday at Salt Point will focus on brush clearance along the trails. Kids 12 and up are welcome with a legal guardian. FREE CAMPING AVAILABLE ON FRIDAY & SATURDAY.
We can accommodate up to 19 volunteers.
Work day runs from 10am - 3pm on Saturday, September 14.
California State Parks offer free camping at Salt Point on both Friday and Saturday night (September 13 and 14) for all volunteers who pre-register and work the full day.
Lunch is provided for all volunteers.
To register, go to California State Park Foundation's Park Champions Calendar and click on the work day (September 14)
See also events at Fort Ross