Fisk Mill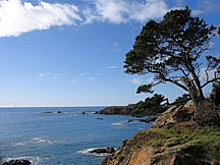 John Colt Fisk came to the Sonoma coast in the fall of 1860 looking for a place to operate his steam sawmill to cut timber for the railroads. He built the sawmill and a chute for loading lumber schooners. The mill and shipping point developed into a small village of several hundred people. Between 1868 and 1874 four hundred thirty-seven schooners stopped at Fisk Mill Cove. By the mid 1870s the milling business was in decline, but the local ranchers continued to use the chute for shipping cordwood and tan bark through the 1890s. Fisk Mill, left, and the lumber chute below.
Fisk Mill Day Use CLOSED:
CLOSED - No Restrooms - No parking
Hazardous tree conditions
Pitch pine canker is a fungal disease caused by Fusarium circinatum and can infect multiple species of pine trees. It is currently found in 18 coastal counties in California as well as the south eastern United States, Europe, South America and parts of Asia. In Sonoma county pitch pine canker primarily infects Bishop pines (Pinus muricata) and can cause high rates of mortality. Some stands in Salt Point SP and Fort Ross SHP exhibit 100% mortality creating numerous standing dead trees which pose a hazard to park visitors, staff and facilities. A management plan is being developed to address this problem in order to protect park visitors, facilities and ensure the long-term survival of the Bishop Pine ecosystem.